Microvision Has Enormous Potential
Summary
Microvision's market opportunity is huge.
Microvision's technology is in components being produced by Sony and Sharp/Foxconn.
Their tech is appearing in multiple, very interesting products which should be hitting the market soon.
Microvision holds numerous projection and augmented reality patents. Microvision's PicoP technology is mentioned in many patents by Apple, Microsoft and other companies such as car giant Magna Electronics.
There were
1.4 billion smartphones sold worldwide in 2015
. Every smartphone purchased requires a significant compromise between wanting a small form factor and a large screen. There is a very practical way to make a cellphone smaller with a much larger screen: Microvision's (NASDAQ:
MVIS
) laser projection technology. Their laser projector technology can create a 12-nch diagonal screen in a bright room, significantly larger than any smartphone screen. In a dim room performance is even better. In a dark room it can give you a theatre experience, with a six-foot or larger screen. A projector like this can fit in your cellphone. The image is always in focus, even if you're projecting on two surfaces that are far apart. Touch interactive images and automatic keystone correction are features that are on deck and being demonstrated.
How good is it?
Below is a picture taken of my phone with an image projected by the PicoPro behind it. (PicoPro is a Celluon product that uses Microvision's technology.) The projected image is the same as the image on the phone. I circled the phone so you can find it.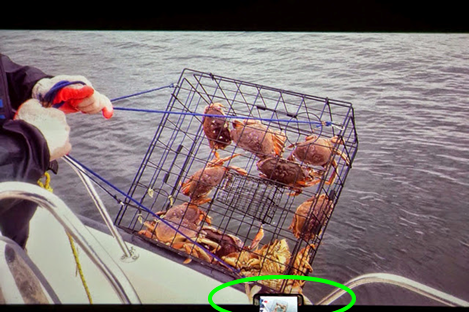 Everyone who wants to share the pictures they've taken will prefer to use a screen this large to do so. Sharing pictures is certainly more fun than taking them. There are an increasing number of people with poor vision who can't see pictures on a smartphone screen - they can if they're shown with PicoP technology. We like big screens for gaming and viewing media, or for giving presentations too, and this makes it possible.
Smartphone makers are desperate for new features. Among the potential improvements often cited in recent weeks for Apple's iPhone series would be eliminating the "antenna lines." I regard this as evidence of just how desperate they are for innovation. If one in a hundred iPhone users knew what antenna lines were or wished for them to be gone I would be very surprised. Microvision, together with partners Sony(NYSE:
SNE
) and Sharp/Foxcon can provide something new and desirable that will attract new buyers to whichever brand is incorporating their technology.
Without significant new features, smartphones will become just another low-margin commoditized product.
Sony and Sharp/Foxconn are both licensing Microvision's technology. Sony is producing PicoP components and selling them to other OEMS and installing it in their own products. Sharp has RoBoHon, due out shortly. I also expect Sharp to sell PicoP as a component soon because they showed multiple laser projector engines at the recent wearables conference.
Owning shares of Microvision will mean owning a piece of a very innovative IP company, with the world's largest and best component producers licensing their technology.
Working with a company like Sony may be a slow process but you can count on the end result being of exceptional quality. The components also will accessible to every other company Sony produces components for. Sony (NYSE:
SNE
), Sharp and Foxconn are selling components to every major handset manufacturer in the world. There is downside: on this side of the investing timeline, there will be little news. Microvision investors will have to wait until engine makers Sony and Sharp/Foxconn or their customers announce their products. Until then, non-disclosures are keeping Microvision quieter than we might like.
Although things have been quiet so far, PicoP is in an increasing number of products and product prototypes. In released products, Microvision's technology is in the
Celluon PicoPro
and
PicoAir
and the
Sony MPCL1
. These products have received excellent reviews. Each time I show my PicoPro to someone new, the response is generally "where can I get one of those?"
Prototypes that have appeared recently:
· PicoBit, from Celluon, projector with onboard Android OS, media player and integrated touchpad, which
won an innovation award
at CES.
· the
Xperia Agent,
which will one-up the Amazon Echo with video.
·
Sharp's RoBoHon
: A walking, talking and dancing personal assistant with video has just been announced and is getting some attention. A low volume product that is getting a lot of attention.
·
The Qualper MEMs phone.
I was able to handle this at CES. I'm suspicious that it is a proving ground for another OEM, and it looks very similar to an iPhone 5.
There were production problems last year. This hurt recent quarterly results. Production problems on new products are common however, and shouldn't scare an investor in an innovative new technology. Delays should be expected. Microvision hasn't disappointed in this department. Once the problems are solved, however, expert manufacturers like Sony, Sharp and Foxconn can produce things very quickly in very large quantities.
Microvision has a strong patent portfolio around projection. They are mentioned in patents with other companies including
Apple
(NASDAQ:
AAPL
),
Microsoft
(NASDAQ:
MSFT
), and others, like automotive patents w
ith Magna Electronics (NYSE:MGA).
Microvision is a player in augmented reality as well. They hold a
significant AR patent portfolio
, and are definitely playing with companies that are much larger measured in terms of market capitalization.
Microvision's technology is able to get smaller and brighter and more energy efficient as laser technology progresses. I took the photo below at the Sumitomo booth at CES this year. The host at the booth told me that the two items above the dime are RGB laser modules that are in production now. The silver one to the right of the dime is in development. Microvision's projectors will continue to get smaller and brighter and better.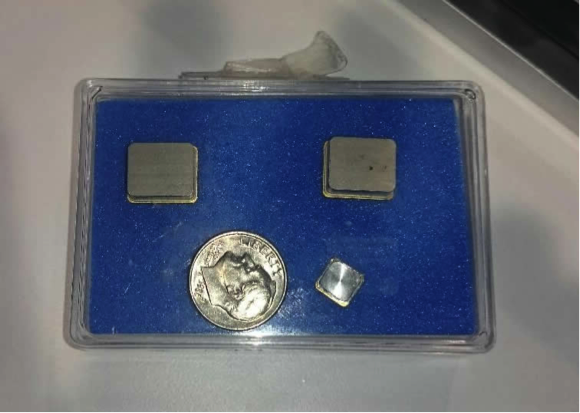 The market for PicoP technology is much larger than smartphones. Anything that needs a screen to deliver entertainment or information could use PicoP. I like to isolate smartphones. Many times I have demonstrated the product to people and asked: "how many of the smartphones in the world do you think will have this incorporated?" The most frequent answer I get is "all of them."
As an ultimate goal for this company, I use inclusion 1/10th of the smartphone market as a reasonable target. If we use 2015 numbers, that is 140 million units. My best educated guess of earnings per unit to Microvision is $12. I admit that I may be significantly off the mark, either high or low, but it is based on an answer to a question at the 2014 annual stockholders' meeting. To be safe, I'll assume that there will be about five million more shares then. That would create an EPS of 30.5, which is pretty good for a company who's stock is currently trading under $2, even if you need to wait a few years to get there. (140,000,000 *12)/55,000,000 = 30.5. (The $12/unit figure is based on a question answered during the 2014 stockholder's meeting, "how many units need to be sold in a year for the company to be in the black?" The answer was "one million.")
I think Microvision could be on its way to this rate of earnings sooner rather than later. There are smartphone producers desperate for new features, and the production of components using Microvision's technology is in the hands of Sony, Sharp and Foxconn. Once those companies have their manufacturing processes worked out, production can happen at a rate that is incredible. Based on my experiences using this technology and seeing the reactions to it, the demand will be there.
There are, of course, many things that can happen between now and that kind of target being reached. With new products production problems can occur, as we've recently experienced. Each stage of production involves processes that can have their own difficulties and issues at one stage can affect other stages and create significant delays. There also are high-level decisions that can cause delays - ultimately it will depend on the willingness of major OEMS to include projection technology in their devices. I do believe that we are reaching the point where a mass market product will feature this technology. It's too good to ignore.
Microvision is a micro-cap company. As such, when money runs short the options to get more can be difficult. Microvision recently raised money with an offering of common stock, which diluted the stock by about six percent and the market punished the stock with a 40% price reduction. However Microvision also has remained debt free, which I believe is risk positive. Debt will not force the company to make short-term decisions to serve debt service.
Long-term targets, potential problems and speculation aside, recent price pressure based on the production problems of last fall has punished the stock more than it should have. Historically at about this time of year, announcements will create incredible moves up in the stock that can be great trading opportunities. I think much of the near-term risk is out, and I believe that this would be an optimal time to invest in this very promising company.
Disclosure:
I am/we are long MVIS.
I wrote this article myself, and it expresses my own opinions. I am not receiving compensation for it. I have no business relationship with any company whose stock is mentioned in this article.
Editor's Note: This article covers one or more stocks trading at less than $1 per share and/or with less than a $100 million market cap. Please be aware of the risks associated with these stocks.